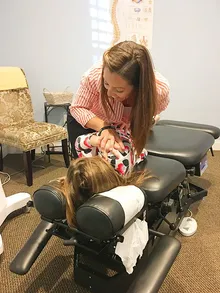 "We love being adjusted as a family and yes I said family. And yes that means our children too. So many health benefits. Giving my body what it needs is just as important for my children. So why wouldn't I have my children adjusted!? The best thing is that they love to be adjusted. It is kind of comical, the two of them fight over who goes first!" - The Elkins Family
Levi's mom came into the office on recommendation from his doctor due to acid reflux, sleeping issues, not being able to lay on his back or stomach, in the lowest 2% of his weight for his age (8 month old), and just a very unhappy baby. After 3 visits, we had amazing results and here is what his mom had to say:
"He just went to his 9 month check up on Friday and he is now in the 6th percentile for his weight! He was in the 2nd at his last checkup! He is currently considered to be in the average weight range. (5th-95th is considered average) He now sleeps through the night 10-12 hours every night and completely flat on his back! He is fully off of his acid reflux medication and doing well! I'm so glad our paths crossed and you were able to help our little guy out! I will forever be grateful for meeting you! I would love for you to share a testimonial about Levi, hopefully it will help another parent make the decision to have their baby be seen!"
Dr. Katie Ulam is the best chiropractor! She has helped relieve neck and back pain for years from working at a computer. She was even more helpful after I was in a car accident with low back pain. Always a pleasure to see. She is thoughtful and intuitive about improving your health. Can't say enough good things about her! Your back will thank you!--- Kim Duff
Dr. Katie Ulam is amazing! I cannot say enough good things about her or her chiropractic care and I always recommend her to my friends and family. She takes the time to listen and understand what is going on with you. A lot of doctors rush you in and out like cattle. Dr. Katie takes a personal interest in you and what is going on in your life. She is personable, knowledgeable, and friendly. I can unequivocally recommend her for all your chiropractic care!!-- Brett Heintz
Dr. Katie did a great job on my lower back.After my knee replacement, the only relief I could get was making an chiropractic appointment. Dr Katie took the time to understand and listened to where the pain was, and made adjustments. Always feel better after.-- Ed Hartnett
I highly recommend Dr. Katie. She is extremely thorough and very professional, as well as the most knowledgeable Chiropractor that I have used. On my first visit Dr. Katie took the extra time ti discuss all issues that I may have, not just the issue that I had that day. The issues with my upper back and neck were very painful. After several visits I had gained enough relief, as to stop using Nsaids. My neck and upper back has not felt so well since the original problem. Again I would have no problem recommending Dr. Katie.--Steve B.